About Sarah: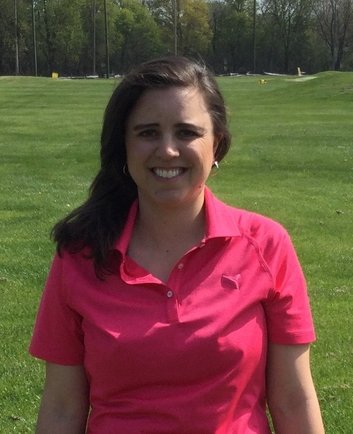 Whether it is learning to play golf for the first time, wanting to get rid of your slice or hook, or simply learning how to be more consistent with your golf swing, I can show you how to do it. Everyone I teach gets significantly better and improvements can be dramatic even after the first lesson. I can help any golfer reach their goals whether you want to become a scratch golfer or break 100, 90, or 80. My students tell me all the time that they are breaking their lowest scores and getting more consistent.
I learned the golf swing at the David Leadbetter Golf Academy when I started golf at a young age. I've played competitive golf successfully including a 3rd place finish in the Illinois Women's Open State Championship. I've also studied the golf swing under many top ranked instructors and seen many different swing models and theories.
I have been teaching golf for 10 years. Before starting my own golf school at Links and Tees, I was a golf professional at some top clubs in the Chicago area. I taught golf lessons at Schaumburg Golf Club and Hinsdale Golf Club while working as an assistant golf professional. From my experience of giving thousands of golf lessons, I have developed a simple and effective teaching method which can help golfers of any level play much better and up to their potential.
My simple approach to teaching the golf swing enables students to make dramatic improvements because I help them understand what they are doing. Some golf instructors can make the golf swing seem overcomplicated for the average golfer. Most people don't have all day to practice their golf swing so I teach an easy method that can have you improving at a faster rate and with less effort. I give the same amount of attention to every student I teach whether they are trying to break par or just starting out as a beginner. I am excited when my students of all levels are reaching their goals from beginner to scratch golfer.
Lessons are offered year round at the Links and Tees Golf Range, and we have an indoor golf dome where winter lessons are available. Our outdoor lighted driving range is open from 8am-10pm daily during the summer. For more information on Links and Tees, a nationally ranked top 50 golf practice facility, visit The Links and Tees Website.
I welcome any communication and can be reached by calling 630-781-5622 or by email at golfgrl83gmail.com. Contact me anytime to find out more information or to schedule your lesson(s). I look forward to hearing from you!


Schedule A Lesson Today!

Read More About My Teaching Philosophy

Click Here To Return To The Homepage